CAMPFIELD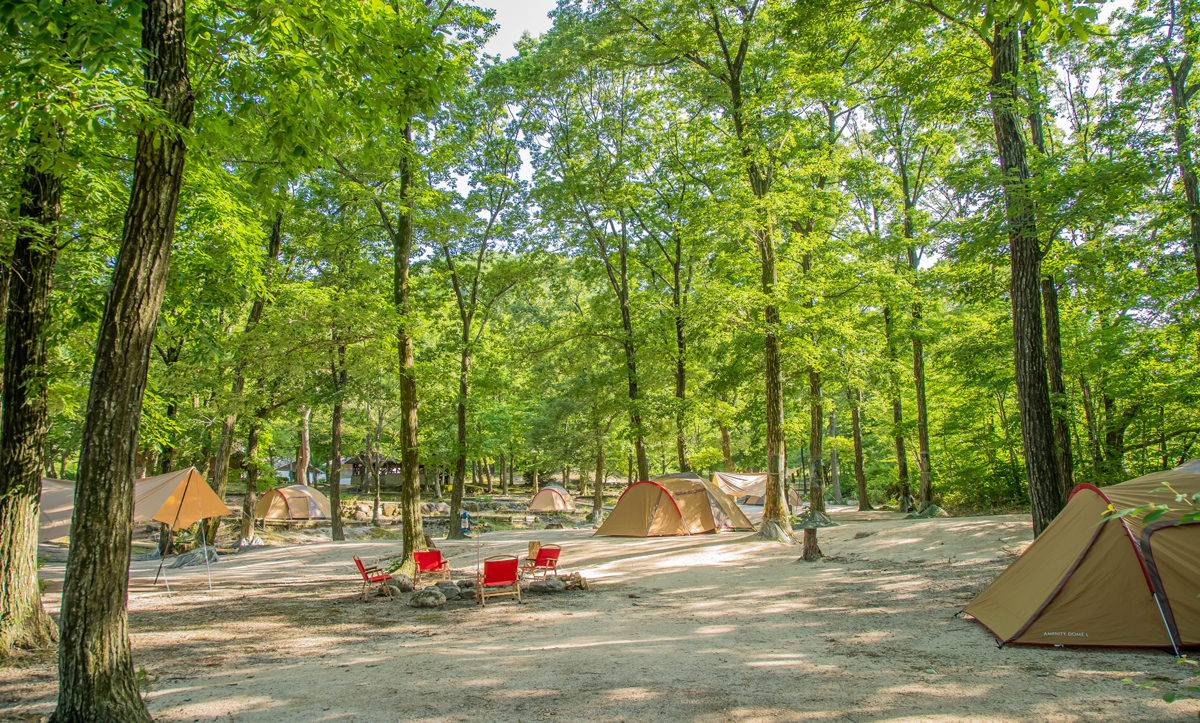 Reopened in June 2020
Various types of camping sites are available. You can spend more fun in nature!

【ADDRESS】 688-130 Noigura, Kotoura, Tōhaku District, Tottori
Reservation and inquiry TEL.070-2161-3315 (10:00-19:00, Closed on Tuesdays)
>>> Reservation from here <<<
Features of facility
-Camp fire pit
-Large grill bridge
-Separate toilets for men and women (with electric toilet seat)
-Wheelchair accessible toilet
-Coin Shower (200 yen / 5 minutes) Please take off your shoes and use the shower booth.
-Washroom
-Parking space (Shared parking available)
-Field Kitchen(Washing place with water)
-Wi-Fi available around the Information center

Frequently Asked Questions
【About reservation / cancellation】
When can I make a reservation?
Reservation accepted from 1 year before the scheduled date
When can I make a telephone reservation?
Reservations by phone are available from 10:00 am to 7:00 pm (Except every Tuesday, due to regular holiday)
Can I make a reservation on the Internet?
About reservations, campsite reservation site "nappu なっぷ" / mail / LINE / reservation acceptance by telephone is possible.
If you are using 3 or more camp sites, reservation fee is required.
>>> Reservation from here <<<
Do you need a reservation fee, advance deposit, etc. in advance?
It is not necessary.
What's the time and fee for day camp?
The time for day camp is from 10:00 to 17:00. The fee will be the same as the fee for each camp site.
>>> Price information from here <<<
Can I wait for cancellation?
You can not wait for cancellation. It is troublesome, but please confirm at any time by the Internet, telephone.
When does a cancellation fee occur?
Cancellation fee for cancellation by customer's convenience: 7 days before use date: 20% of charge, 3 days before: 50% of charge, same day and without notification: 100% of charge we will request it
Is there a cancellation fee if the weather is bad?
In the case of a typhoon, etc., we will determine if accommodation is possible at our campsite.
There is no cancellation fee if it is determined that accommodation is not possible. Please check the weather forecast and inquire.
【About check-in / check-out / payment】
When is the check-in time?
It is preferred between 1pm to 5pm. Please contact us if you are late.
When do I have to pay for the campsite?
Full fee required at check-in
Can I use a credit card for payment?
Credit cards cannot be used at the campsite. Please pay online in advance or prepare cash
【About Campsite】
Can I specify a site?
No, you can not specify the site (number) or the location.
We consider the weather, groups, individuals, pets and so much more, and allocate sites to provide a comfortable place for everyone as much as possible.
Is the site number determined by the earliest check-in time?
The order of check-in does not matter for the decision of the site
Is there a limit on the number of people in one space?
The capacity of one section is: one car for up to 6 people (including adults and children (0 years old and over).
If you are using more than 6 people, you will be required to add an additional space. In addition, please follow the instructions of the staff for parking of the second and subsequent cars.
Is there a space that has a barbecue stove?
There are none. Please bring it with you, or we have rental available.
Can I have a barbecue or bonfire on the site?
This campsite prohibits open fires. Make sure to have a barbecue or fire using equipment with proper safety features.
Is there a sponge or detergent in the kitchen?
There are none. Please use eco-cleansers at the Field kitchen.
Can I park my car near my tent?
It is possible to park your car, if you choose the "car parking site" .
Parking is not allowed on general sites, please park in the common parking area.
We rent a wagon to carry luggage to the site.
Are pets allowed?
Pets are allowed.
However, please keep them on a lead and clean up after them, so you don't bother other customers.
【About coin shower】
Can I use a coin shower?
The fee for a coin shower is 200 yen for 5 minutes. It can be used until 20:00.
Do you have towels, shampoos, or dryers for sanitary use?
There is no shampoo, body soap or hair dryers in the coin shower area. Please bring natural soaps, shampoos and all other shower items with you.
【About facilities/equipment】
Is there a place where you can have meals and drinks?
There is a cafe inside the venue, currently open only on Saturdays, Sundays, and holidays. The type and number of dishes are limited

Is there a shop at the campsite?
There is a shop in the information center. Please check the list and price here for the products for sale. However, please note that the number is limited.
【About the treatment of fire】
Can I have an open fire (a direct bonfire on the ground)?
The Natural Hall and Camp Field prohibits open fires. Be sure to use a device with feet of sufficient height. (There is also a rental for the open fire station.)
What should I do with used charcoal?
After a bonfire or barbecue, please dispose of the burning residue (charcoal, ash) in the designated place. Please do not throw it out on the river or the ground.
【Other things】
Can I use fireworks?
Fireworks are not allowed, including hand-held fireworks.
Is there a regular holiday?
Every Tuesday the camp site is closed. (Except holidays, summer holidays etc.)
Even on normal business days, the campsite may not be available if not booked
How should I dispose of trash?
A garbage can is given to all guests with a mandatory recycling fee of 550 yen / day.
Can I enter or leave at night?
There is no lock, but we do not allow admissions except for those who have made reservations. You can not enter or leave except in the case of an emergency such as sudden illness or injury. Please follow the rules. In case of an emergency such as illness or injury, please contact the information center.
When is light off time?
No noise or acts that bother other customers from 8pm to 8am.
Please cooperate so that everyone can sleep in peace.
Are there mosquitoes and other insects at the campsite?
The campsite is located on a mountain with abundant nature, so naturally there are many mosquitoes.
Do not forget to wear tops and bottoms with long sleeves, and insect repellents.  Be careful with snakes and bees.
Can I use my cellphone in the campsite? Can I use the internet connection?
Although it is difficult to connect in some places, you can generally use your cellphone.
Wi-Fi is available only around the information center.
Can I smoke?
No smoking inside the campsite. Smoking allowed only in designated places
The campsite is operated by Ikkoganaru Campfield Co., Ltd.